Found In:
Programs >
1924-25 Season >
Stadium Concert
1925 Aug 26 / Stadium Concert / Hoogstraten
ID:

12952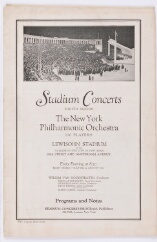 View Program
Notes
Checked Stadium scrapbook, found nothing. NY Times Review available in I: drive. No mention of the following works in any reviews have been found:

"4. Negro Songs and Spirituals
(a) "Deep River", H. T. Burleigh
(b) "Heav'n, heav'n", H. T. Burleigh
(c) "Song of the Heart", J. R. Johnson
feat Marian Anderson with William King at the piano"

Based on the better-documented programs of the previous two contest winner's concerts, Ms. Anderson most likely performed an encore.
Project Funder:
Collection Guarantor: