Found In:
Programs >
1919-20 Season >
Subscription Season
1920 Feb 07 / Subscription Season / Stransky
ID:

5666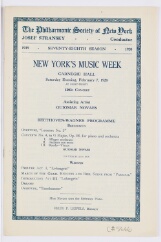 View Program
Notes
NEW YORK'S MUSIC WEEK

"Beethoven-Wagner programme".

Wagner's "Traume": performed purely for orchestra in the Thomas arrangement. Program notes seem to indicate that Wagner's violin solo (work ID# 9129) was used in place of a vocal soloist.
Project Funder:
Collection Guarantor: