Found In:
Programs >
1939-40 Season >
Stadium Concert
1940 Aug 12 / Stadium Concert / Smallens
ID:

11663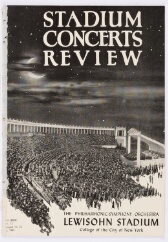 View Program
Notes
Chopin and Debussy: all works listed in the program included here. Review mentioned "the Chopin C minor Nocturne and the A flat posthumous and a Prelude of Debussy".

Final Templeton works: may have orchestral accompaniment? Unclear from the review.
Project Funder:
Collection Guarantor: