Found In:
Programs >
1929-30 Season >
Stadium Concert
1930 Aug 25, 26 / Stadium Concert / Hoogstraten
ID:

12676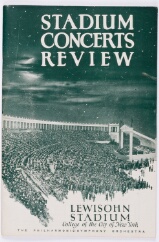 View Program
Notes
"Waltz no. 13, Orchestra by Andre Kotpelanetz" --we guess this means this particular waltz in the suite of Brahms Waltzes performed was arranged by Kotpelanetz. Program notes and NY Times review do not say anything more specific.

We have assumed that "Bach...Air" means Bach's Air on the G string.

Anna Duncan proceeded to perform three unspecified encores after the end of the original program.
Project Funder:
Collection Guarantor: