Found In:
Programs >
1929-30 Season >
Stadium Concert
1930 Jul 19 / Stadium Concert / Hoogstraten
ID:

12685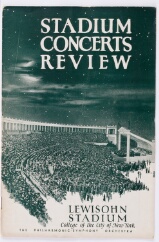 View Program
Notes
No review was found for this program.

The program says there were two intermissions in this program, one of which occurred after the Berlioz excerpts (i.e. at the end of the program). This was probably a misprint.
Project Funder:
Collection Guarantor: