Found In:
Programs >
1909-10 Season >
Special
1909 Dec 02 / Special / Damrosch
ID:

9979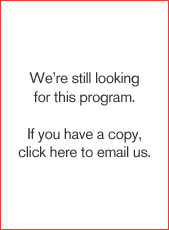 Notes
Isadora Duncan's Farewell Appearance in New York.
New York Times review says that Augustin Duncan performed readings from "Greek Choruses." These readings are not shown in the concert program.

Beethoven septet, performances by Theodore Thomas and Walter Damrosch, 1887-1909: unclear if an expanded version for orchestra was performed/original septet, with/without a conductor.
Tchaikovsky: quartet or string orchestra version not specified.
Project Funder:
Collection Guarantor: