Found In:
Programs >
1961-62 Season >
Stadium Concert
1962 Jun 30 / Stadium Concert / Allers
ID:

11398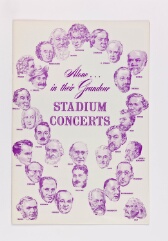 View Program
Works
Loewe / Brigadoon

Overture
Come To Me, Bend To Me
The Heather on the Hill
I'll Go Home with Bonnie Jean
It's Almost Like Being in Love

Loewe / Gigi (after Colette)

"Thank Heaven For Little Girls"
"The Night They Invented Champagne"
"I Remember It Well"
"Gigi"

Loewe / Paint Your Wagon

Prelude
"Another Autumn"
They Call the Wind Maria
I Talk To the Trees
There's a Coach Comin 'In
I'm On My Way

Intermission
Loewe / Camelot

Overture
Follow Me
If Ever I Would Leave You
What Do the Simple Folk Do?
Camelot

Loewe / My Fair Lady

Wouldn't It Be Loverly?
With a Little Bit of Luck
I Could Have Danced All Night
Get Me to the Church on Time
On the Street Where You Live
I've Grown Accustomed to Her Face
I Could Have Danced All Night
Notes
Lerner and Loewe Night. Choral director: Charles Smith. "I Could Have Danced All Night" was sung twice, first with Laurel Hurley alone, and last with the entire ensemble.
Project Funder:
Collection Guarantor: