Found In:
Programs >
1925-26 Season >
Stadium Concert
1926 Jul 08 / Stadium Concert / Hoogstraten
ID:

12849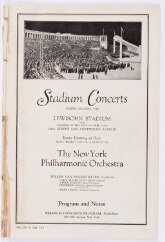 View Program
Works
Wagner / Die Meistersinger von Nuernberg, WWV 96
Wagner / Götterdämmerung

PROLOGUE: Dawn
PROLOGUE: Siegfried's Rhine Journey
"Brunnhilde, heilige Braut!" (Siegfried's Death), Siegfried, Act III, scene ii
Siegfried's Funeral Music, ACT III, scene ii

Wagner / "Träume" from Funf Gedichte fur eine Frauenstimme (Wesendonck Lieder), WWV 91 (Thomas, Theodore) (Encore)
Wagner / Tannhäuser und der Sängerkrieg auf Wartburg, WWV 70
Intermission
Notes
The New York Times review from the following day makes no mention of the Goetterdaemmerung's "Dawn". The Herald-Tribune also says nothing of the matter, but the "World" from 9 July 1926 says it was played. The NY Times review does mention an encore immediately after the Goetterdaemmerung's excerpts: "Traeume", a study of .
Project Funder:
Collection Guarantor: