Found In:
Communications/Public Relations > Press Clippings
1938 Stadium Scrapbook (Part 3 of 3), Jul 26, 1938 - Aug 31, 1938
ID:

555-030-03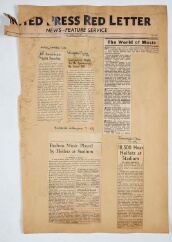 View Folder
Record Group
Communications/Public Relations
Series
Folder Title
1938 Stadium Scrapbook (Part 3 of 3)
Dates
Jul 26, 1938 - Aug 31, 1938
Subjects
Names
Abstract
- New York Musicians' Union Local #802 sponsor "American Composers Night" at Lewisohn Stadium; Five different conductors lead each work - Recap of earlier concerts, including performances by Jose Iturbi, the Stadium debut of Macklin Marrow, and Gershwin Memorial Concert - Cover of Musical Courier from August 1, 1938 featuring Mischa Elman - Young violinist Arnold Belnick makes his Stadium debut - Willem van Hoogstaten conducts a concert of music by Austrian, German, Italian, Russian, Bohemian, and Spanish composers - Josef and Rosina Lhevinne are guest performers at Lewisohn Stadium, performing repertoire for two pianos; Profile and interview - Italian conductor Massimo Freccia conducts at Lewisohn Stadium after being rained out the previous week; Mayor La Guardia attends - Crown Prince Gustaf Adolf and Crown Princess Louise of Sweden attend stadium concert; Under direction of Alexander Smallens, the orchestra plays the Swedish national anthem - Article from the New York Times Magazine on July 31, 1938 "Outdoors, Indoors, Music Conquers America" - Jascha Heifetz interviews on being a professional musician in the present day and his children - Antonia Brico is the first woman to conduct the Philharmonic; Profile on Brico - Aviator Douglas Corrigan is welcomed back to New York by Mayor La Guardia after flying from New York to Dublin; Stadium Concerts arrange special Irish program in his honor - Mark Warnow scheduled to conduct composition "Powerhouse" by his brother Raymond Scott at "Radio Night" concert at Lewisohn Stadium on Wednesday August 10 1938; This concert was cancelled due to rain and replaced with a different program conducted by Theodore Cella - Pianist Josef Hofman Stadium debut - Works of three Philharmonic musicians presented at Stadium concert, including an interlude by oboist Bruno Labate, a Fiorillo etude transcribed by violinist Arcady Dubensky, and "Manhattan" by Theodore Cella - All-Stravinsky program heard on August 11 conducted by Alexander Smallens, featuring pianists Katje Andy, Hannah Klein, Alfred Thieleker, and William Tarrash; Vocalists Liuba Senderovna, Jeanne Palmer, Ivan Ivantzoff, and Peter Nicolaeff; Repertoire includes Firebird suite, Symphony of Psalms, and "Les Noces" - Article from Life magazine dated August 15, 1938, Vol. 5, No. 7 about "Music under the Stars" - Adolph Lewisohn dies at the age of 89; Conductor Willem van Hoogstraten makes an announcement at a concert praising Mr. Lewisohn, unaware of his death - Cover of Musical Courier featuring Josef and Rosina Lhevinne - Thirty pages at the end of this folder contain clippings about the Stadium Concert season in a variety of languages; Publications include Amerikai Magyar Népszava, American Hungarian; La Voz, Spanish; Atlantis, Greek; Jewish News, Yiddish; The Jewish Morning Journal, Yiddish; Forward, Yiddish; Der Tog, Yiddish; Morgen Freiheit, Yiddish; La Prensa, Spanish; Russky Golos, Russian; The Polish Morning World; Il Progresso Italo-Americano, Italian - Photo spread from the New York Herald Tribune on July 17, 1938 titled "Hot Musicians" featuring shots of Philharmonic musicians performing in the summer heat
Project Funder
Preferred Citation
1938 Stadium Scrapbook (Part 3 of 3), 26 Jul 1938 - 31 Aug 1938, Folder 555-030-03, Communications/Public Relations Records, New York Philharmonic Leon Levy Digital Archives.
https://archives.nyphil.org/index.php/artifact/06616459-499e-45b1-acfa-9858beeec589-0.1