Found In:
Executive > Price, Walter W.
Price, Walter W., Papers of, Jun 19, 1922 - Feb 19, 1944
ID:

005-03-14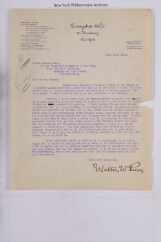 View Folder
Folder Title
Price, Walter W., Papers of
Dates
Jun 19, 1922 - Feb 19, 1944
Subjects
Names
Abstract
Papers of Walter W. Price (WWP), Member of Board of Directors, Finance Committee, Executive Committee and Associate Chairman of the Auxiliary Board; Article by WWP of Livingston & Co., dated 1 February 1933, entitled "Theories Cannot Overcome Realities"; discussing the state of the depressed Eeconomy, 1933; Speech Given in the Chapel of the College; Memorandum Booklet; Citizens Committee Minutes; Arturo Toscanini Birthday Reception and Dinner; Speech given by Walter W. Price; Farewell concert of Josef Stransky, January 1923; Arrival of Willem Mengelberg; ALS- and LS-Walter W. Price (WWP), various, dealing with operations of the Philharmonic Society, written in a unique scholarly witty and ironic style; Letter of WWP to Charles Triller re constitution of some committee, with distinct antisemitic overtones; LS-Arthur Judson, various letters pertaining to operation of the Philharmonic-Symphony Society, Investment of Pension Fund with Brown Brothers Harriman; Minutes of the Executive Committee, 24 February 1931; Complaints about the Minutes of Meetings of the Executive Committee; Problems with Philharmonic concerts in Washington D.C.; Letter from WWP to Toscanini 12 March 1934 requesting him to make a short speech on the radio for contributions to the Philharmonic Society, which Toscanini declined. Speech on occasion of Toscanini birthday dinner at Hotel Astor, 3 April 1934 including remarks by the Maestro which he was reluctant to make himself, including an appeal for financial support of the orchestra. Dispute over cost of program notes of Lawrence Gilman; Death of Josef Stransky, Philharmonic conductor 1911-1923, on 6 March 1936; Address of WWP at Union College, 15 April 1936; "The Challenge to Battle" by WWP, 12 June 1936; Choice of composer Deems Taylor as radio commentator; Orchestra dinner given by WWP and Charles Triller, 18 December 1936; WWP Donations; Attempts to engage Toscanini for the Centennial Season of the Philharmonic, 1942-43; Attempts to get donation from John D. Rockefeller, Jr.; ALS-WWP, resignation from the Board of Directors and Executive Committee of the Philharmonic after serving for 21 years, 7 October 1942; and subsequent designation as Honorary Vice-President; Death of WWP 19 November 1943, and book In Memoriam, privately published by George Hammond Sullivan, containing poems and other writings by WWP and tributes from his close friends; ALS- and LS-Ysobel Price, thanking members and staff of the Philharmonic for their condolences and their tribute to her husband Walter Winston Price
Project Funder
Preferred Citation
Price, Walter W., Papers of, 19 Jun 1922 - 19 Feb 1944, Folder 005-03-14, Executive Records, New York Philharmonic Leon Levy Digital Archives.
https://archives.nyphil.org/index.php/artifact/08eeb830-04f1-423b-90f9-4d398baca0ea-0.1