Found In:
Communications/Public Relations > Press Clippings
1932-33 Scrapbook (Part 3 of 3), Feb 4, 1933 - May 31, 1933
ID:

555-020-03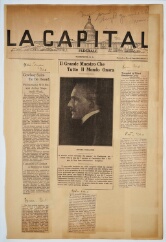 Record Group
Communications/Public Relations
Series
Folder Title
1932-33 Scrapbook (Part 3 of 3)
Dates
Feb 4, 1933 - May 31, 1933
Subjects
Names
Abstract
- Toscanini to conduct Beethoven cycle - Arthur Judson announces that all Philharmonic concerts will be held at Carnegie Hall in the following season - Philharmonic marks Semi-Centennial of Wagner's Death with all-Wagner program - Bruno Walter conducts works by two American composers, Arthur Shepherd and Charles Martin Loefler - Philharmonic celebrates Brahms Centenary - Toscanini resumes leadership of the Philharmonic - Attendees of the children and young people's concerts present Ernest Schelling with a book of over a thousand signatures in honor of his tenth year as conductor - Bruno Walter conducts his final concert of the season - New York premiere of Dr. Howard Hanson's Romantic Symphony No. 2 - First Lady, Mrs. Franklin D. Roosevelt, attends Toscanini's Farewell Concert - Schelling presents Concert Awards to 15 children - Maintaining Symphonic Concerts becomes difficult due to the Great Depression. Agreements are made for salary cuts and reduction in ticket prices for Sunday concerts. - Toscanini conducts Tchaikovsky's "Manfred" Symphony; the first work by Tchaikovsky to be presented by Toscanini in New York - Toscanini leads protest against Hitler - Toscanini withdraws from the Wagnerian Festival in Baireuth, Germany - German Radio Boycotts Toscanini Recordings and all musicians who pleaded for Jews - Hans Lange is announced as a guest conductor for the coming season; will preside over the interval between Bruno Walter and Arturo Toscanini's tenures - Plans for 1933-34 season - Profile of Issay Dobrowen
Project Funder
Preferred Citation
1932-33 Scrapbook (Part 3 of 3), 4 Feb 1933 - 31 May 1933, Folder 555-020-03, Communications/Public Relations Records, New York Philharmonic Shelby White & Leon Levy Digital Archives.
https://archives.nyphil.org/index.php/artifact/0f73f808-fb63-4319-89b7-6ed45599af23-0.1