Found In:
Programs >
1900-01 Season >
Tour
1901 Jul 05 / Tour / Damrosch
ID:

9933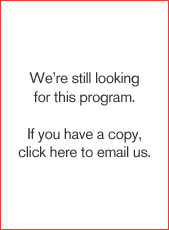 Works
Raff / Symphony No. 5 in E major, Op. 177, Lenore
Intermission
Wagner / Die Meistersinger von Nuernberg, WWV 96
Wagner / Götterdämmerung

"Frau Sonne sendet lichte Strahlen" (Song of the Rhine Maidens), Woglinde/Wellgunde/Flosshilde (trio), Act II, scene i

Wagner / Lohengrin, Op. 75

"Einsam in truben Tagen...In Lichter Waffen Scheine" (Elsa's Dream), Elsa (aria), Act I, scene iia
Notes
Soloists, if used, were not listed.
Project Funder:
Collection Guarantor: