Young People's Concerts: Finance, Jan 1, 1951 - Nov 2, 1954
ID:

019-13-02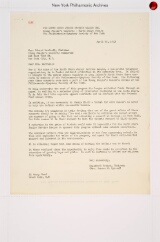 Contact Us
to access this folder.
Folder Title
Young People's Concerts: Finance
Dates
Jan 1, 1951 - Nov 2, 1954
Subjects
Names
Abstract
ALS-John Gardner. Correspondence regarding continuation and expenses of Young People's Concerts for Long Island children; Promotional pamphlets; Programs; Official appeal for support of music education for children offered by the Coordinating Committee for Music Education; 1951-1952 Annual Repor for the Philharmonic-Symphony Society; Budget for proposed educational radio series.
Project Funder
Preferred Citation
Young People's Concerts: Finance, 1 Jan 1951 - 2 Nov 1954, Folder 019-13-02, Education Records, New York Philharmonic Leon Levy Digital Archives.
https://archives.nyphil.org/index.php/artifact/1416033b-0683-4ccd-9748-2be35649a4b0-0.1