Found In:
Communications/Public Relations > Press Clippings
1948-49 Scrapbook (Part 2 of 2), Jan 15, 1949 - May 31, 1949
ID:

555-055-02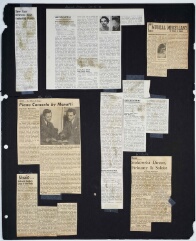 Record Group
Communications/Public Relations
Series
Folder Title
1948-49 Scrapbook (Part 2 of 2)
Dates
Jan 15, 1949 - May 31, 1949
Subjects
Names
Abstract
- CBS sponsors the New York Philharmonic Radio Broadcasts - Depression causes Philharmonic to raise ticket prices - New York Philharmonic's deficit hits \$109,190 - Appointment of Leopold Stokowski and Dimitri Mitropoulos as co-regular conductors for 1949-50 season - First New York performance of Menotti's Piano Concerto played by Rudolph Firkusny - First New York performance of Ralph Vaughan Williams' Symphony No. 6 conducted by Leopold Stokowski - Debut of Byron Janis playing Gershwin's Piano Concerto in F - Article on New York Philharmonic Broadcasts in Music News, February 1949, including a letter by James Fassett, Supervisor of Music, Columbia Broadcasting System - Dame Myra Hess plays the Brahms D-Minor Piano Concerto to mixed reviews using the musical score - Assistant Conductor Walter Hendl named conductor of the Dallas Symphony Orchestra - Beethoven Cycle conducted by Bruno Walter to end his tenure as Musical Adviser - William Kapell plays Rachmaninoff's and Prokfiev's third piano concertos under Stokowski to great acclaim as well as criticism from reviewers - Stokowski plays his arrangement of Debussy's La Cathedral Engloutie - Stokowski conducts Bernard Herrmann's Suite from The Devil and Daniel Webster, taken from the film "All That Money Can Buy" - Strong criticism of Leopold Stokowski's exaggerted and unorthodox conducting of Tchaikovsky's "Pathetique" Symphony - Critical analysis of the performace history of Conductor Leopold Stokowski by Irving Kolodin on the occasions of Stokowski's appointment a co-regular conductor of the New York Philharmonic - First performance by the Philharmonic of Haydn's Symphony No. 53 in D ("Imperial") under Leopold Stokowski - Review by Brooks Atkinson of Rodgers and Hammerstein's "South Pacific" - Great praise for Bruno Walter's performances of the Beethoven Symphonies, Overtures and selected Concertos - Performance of Beethoven's "Eroica" Symphony led by Bruno Walter - Contrasting performances of Beethoven's "Eroica" conducted within weeks by Bruno Walter with the Philharmonic and Arturo Toscanini with the NBC Symphony - Tremendous praise for Clifford Curzon's performance of Beethoven's "Emperor" Concerto under Bruno Walter - Performance of Beethoven's Triple Concerto under Bruno Walter - Attendance by Dimitri Shostakovich at a Philharmonic concert conducted by Leopold Stokowski -,John Corigliano plays the Sibelius Violin Concerto with Leopold Stokowski conducting - Two week post-season tour conducted by Bruno Walter, Leopold Stokowski and Leonard Bernstein - Walter Hendl appointed Music Director of the Dallas Symphoniy - Bruno Walter presented with an original score of Beethoven's "Egmont" Overture and a collection of Beethoven Quartets after completing two years as Musical Adviser to the Philharmonic at the final concert of his Beethoven Cycle - Praise for Bruno Walter's Beethoven's Ninth Symphony with Eleanor Steber, Nan Merriman, Mack Harrell and Raoul Jobin as soloists - Criticism by Virgil Thomson of Beethoven's Ninth Symphony, which Thomson feels is seriously flawed - Article "Musicians Have to be Crazy" by Joseph Wechsberg in The Saturday Evening Post - Reviews of Philharmonic on tour
Project Funder
Preferred Citation
1948-49 Scrapbook (Part 2 of 2), 15 Jan 1949 - 31 May 1949, Folder 555-055-02, Communications/Public Relations Records, New York Philharmonic Leon Levy Digital Archives.
https://archives.nyphil.org/index.php/artifact/16d534f7-34da-4aad-9e00-a9c553b8f86c-0.1