Found In:
Communications/Public Relations > Press Clippings
1927 Stadium Scrapbook (Part 2 of 2), Jul 25, 1927 - Jan 22, 1928
ID:

555-010-03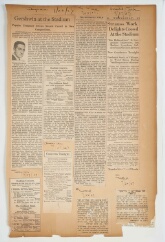 View Folder
Record Group
Communications/Public Relations
Series
Sub-Series
Size
Folder Title
1927 Stadium Scrapbook (Part 2 of 2)
Dates
Jul 25, 1927 - Jan 22, 1928
Subjects
Names
Abstract
- All-Beethoven Program - George Gershwin serves as soloist in his own works at Stadium Concert - Record crowd for a concert featuring music by George Gershwin, played by the composer - Bertha Vandenberg is the only woman in the orchestra for Stadium Concerts - Fokine Ballet during 1927 Stadium Season - Excellent reception for concerts conducted by Frederick Stock - "All-Beethoven concert delights Stadium throng" - Reviewers found performance of Gershwin Concerto "lifeless" - First performance at Stadium of Gershwin's Piano Concerto and Rhapsody in Blue - Ovations greet performances of Beethoven 9th under Willem van Hoogstraten - Novelties at Stadium Concerts - Transcription by Frederick Stock of Schumann's "Rhenish" Symphony - Performances of Mendelssohn's Elijah with a chorus of 200 - Speical praise for tenor Daniel Beddoe in Elijah - Ovation for conductor Pierre Monteux's performances - Arnold Volpe conducts three programs with the Fokine Ballet featuring Vera Fokina, Michel Fokine and Helene Denizon - Monteux conducts Stravinsky's Petrouchka from proof sheets of the original score - Premiere of We by James Philip Dunn, in tribute to Chales Lindbergh and his solo trans-Atlantic flight - Substitution of Brahms Symphony No. 3 for Bruckner's Symphony No. 7 - Tabulation of performances in Stadium Concerts 1927 by composer, number of works performed, and number of times; Top composers in Stadium Concert Season: Wagner, Beethoven and Tchaikovsky - Olin Downes article on Sir Thomas Beecham conducting the New York Philharmonic in January 1928 - Undated review of a performance many years later of the Beethoven Ninth by Arturo Toscanini and the NBC Symphony erroneously included in this scrapbook
Project Funder
Preferred Citation
1927 Stadium Scrapbook (Part 2 of 2), 25 Jul 1927 - 22 Jan 1928, Folder 555-010-03, Communications/Public Relations Records, New York Philharmonic Leon Levy Digital Archives.
https://archives.nyphil.org/index.php/artifact/174564b1-ac47-4d0f-aa6a-e021329ce510-0.1