Found In:
Programs >
1924-25 Season >
Young People's Concert
1925 Feb 28 / Young People's Concert / Walter
ID:

10297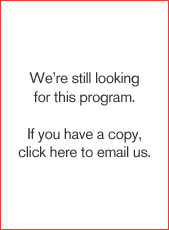 Notes
Program of Dance Music
Bruno Walter, guest conductor

(Part II: "The Marmeins in a special program of their original Drama Dances")
Dukas: Shiva, the god of fire and the dance - Miriam; Parvati, his consort - Irene; Kali, her malevolent counterpart - Phyllis
Mendelssohn: Titania - Miriam; Oberon - Phyllis; Puck - Irene
MacDowell: The Deer - Miriam; The Indian Youth - Irene

"Dances and costumes created by the Misses Marmein. Orchestration for Brahms number arranged by Adolf G. Hoffmann. Musical setting for "King, Queen and Knave of Hearts: orchestrated by Lamar Stringfield."
Some of the other pieces may or may not be SPECIAL ORCHESTRAL ARRANGEMENTS BY LAMAR STRINGFIELD AND MARION KAHN (Marion Kahn: career as piano accompanist. Lamar Stringfield: southern folk composer, so perhaps works were re-arranged in a more folkish manner? No further information is available.) - general credit listed in program, Dec. 15, 1928.

The Symphony Society Bulletin was a newsletter produced in advance of the New York Symphony concerts. It is not known at this time if what was programmed actually happened. There is no known complete set of New York Symphony programs so all performance information is compiled from a variety of sources.
Project Funder:
Collection Guarantor: