Found In:
Executive > Moseley, Carlos
Miscellaneous: Correspondence, Apr 10, 1956 - Dec 31, 1971
ID:

007-04-10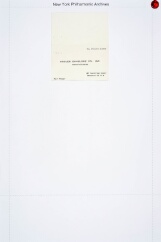 Folder Title
Miscellaneous: Correspondence
Dates
Apr 10, 1956 - Dec 31, 1971
Subjects
Names
Abstract
ALS-Amya Ames, ALS-Carlos Moseley. Letters from persistent writer, Lucy Gillman, to Leonard Bernstein and other Philharmonic directors; Gift of chocolate "kisses" to Philharmonic orchestra members; Liquidation of Steinway Foundation and establishment of Julia D. Steinway Fund in Philharmonic; Letter from Carlos Moseley to Mrs. John D. Rockefeller explaining season length, planning and scheduling of the Philharmonic over the years from the mid-1950s to 1968; 1 million dollars bequest to Philharmonic in memory of Mrs. John D. Rockefeller, Jr.; Philharmonic opens Kennedy Center Concert Hall season with Pierre Boulez; Memo from Amyas Ames to Philharmonic Board of Directors about 1969 Human Rights Commission alleging racial bias against Philharmonic. Included are revised procedures of Philharmonic to include minority musicians, as well as reasons why few black musicians could be found in symphony orchestras.
Project Funder
Preferred Citation
Miscellaneous: Correspondence, 10 Apr 1956 - 31 Dec 1971, Folder 007-04-10, Executive Records, New York Philharmonic Leon Levy Digital Archives.
https://archives.nyphil.org/index.php/artifact/1b3037b5-7dbc-48ca-90bf-0c1c02d6a063-0.1