Found In:
Communications/Public Relations > Press Clippings
1907-08 Scrapbook, Aug 21, 1907 - May 25, 1908
ID:

555-002-01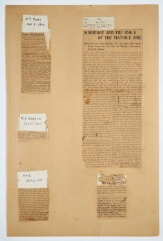 View Folder
Record Group
Communications/Public Relations
Series
Folder Title
Dates
Aug 21, 1907 - May 25, 1908
Subjects
Names
Abstract
- Gustav Mahler is named conductor of the Metropolitan Opera House - Soloists announced for the coming season - The program for the Philharmonic Society's opening two concerts was changed to include Grieg's "Peer Gynt" in memory of the late composer, who died the previous summer - Safonoff and several musicians arrive from Bremen on the Kronprinz Wilhelm steamship - Fritz Kreisler brings fiddle valued at \$15,000; has his hands insured for \$50,000 - Philharmonic celebrates 66th season - Richard Arnold, concertmaster, is forced to miss the opening concerts of the season after suffering a bad fall, which resulted in a broken rib. Henry Schmitt replaces him as concertmaster - Philharmonic performs Anton Rubinstein's "Ocean" - Edouard Dethier is well received by New York audience - Bach Choir of Montclair, N.J. sings with the Philharmonic Orchestra on Berlioz's "The Flight into Egypt" and Scriabin's "First Symphony in E major" - Profile of orchestra members - Various approval for Fritz Kreisler - Criticism of music critics - New York Times: "Concerning the Effect of the Conductor's Tempo on the Performance" - Teresa Carreño is engaged as soloist for an all-Tchaikovsky program - Rimsky-Korsakoff's "Fete de Paques" is performed in New York for the first time - MacDowell, Edward Obituary - Macdowell, Edward Memorial Concert - "The Sunken Bell" by Vladimir Metzl, former pupil of Safonoff, is performed by the Philharmonic for the first time - Catholic Oratorio Society performs H.J. Stewart's "The Nativity" at Carnegie Hall - World premiere of Josef Hofmann's "Piano Concerto No.3," the first public performance of any large work by Josef Hofmann - Comparisons between the New York and Boston Philharmonics - Final program of the regular season is split between Beethoven and Wagner - Two extra programs are added by the Philharmonic, with one of the programs dedicated to Tchaikovsky - Confirmation that Wassily Safonoff will return to conduct the Philharmonic in the 1908-09 season
Project Funder
Preferred Citation
1907-08 Scrapbook, 21 Aug 1907 - 25 May 1908, Folder 555-002-01, Communications/Public Relations Records, New York Philharmonic Shelby White & Leon Levy Digital Archives.
https://archives.nyphil.org/index.php/artifact/1f1782b4-4468-4451-9005-330e229efa12-0.1