Found In:
Board of Directors > Minutes
Board of Directors Minutes, Sep 24, 1953 - Sep 24, 1953
ID:

606-02-55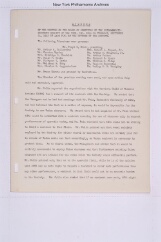 View Folder
Folder Title
Board of Directors Minutes
Dates
Sep 24, 1953 - Sep 24, 1953
Subjects
Names
Abstract
Report on AGMA negotiations and prohibitive cost of hiring union choruses and vocal soloists. Recommendation of Ralph Colin that no contract with AGMA be signed. After much discussion, a motion was approved authorizing Management to sign a contract with AGMA in a form to be approved by the Managers acknowledging terms of jurisdiction of AGMA over soloists and choristers; Annual Meeting set for October 20; election of certain Officers, Directors and Members; financial reports on subscriptions, radio memberships,recording royalties and Friends' Fund; death of Maurice van Praag, orchestra personnel manager for 36 years; resignation of Boris Sokoloff and appointment of George E. Judd, Jr., as Assistant Manager; report on negotiations regarding closed circuit telecasts; engagement of new orchestra personnel; report on interest of James C. Petrillo, President of Local 802 of Musicians' Union, in a Federal Department of the Arts; sponsorship of Critics' Workshop under the American Symphony Orchestra League; authorization to print section of the President's and Treasurer's Annual Reports; General Resolution designating persons entitled to sign checks and transact business at National City Bank attached to minutes
Project Funder
Preferred Citation
Board of Directors Minutes, 24 Sep 1953 - 24 Sep 1953, Folder 606-02-55, Board of Directors Records, New York Philharmonic Leon Levy Digital Archives.
https://archives.nyphil.org/index.php/artifact/208bbacf-4d76-460d-a595-40cb599bee1f-0.1