Found In:
Programs >
1907-08 Season >
Subscription Season
1908 Apr 05 / Subscription Season / Damrosch
ID:

5995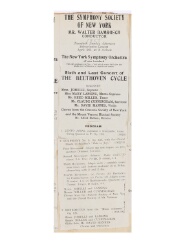 View Program
Notes
Sixth and Last Concert of the Beethoven Cycle.

Mount Vernon Musical Society - Alfred Hallam, Director

It was common for the entire string quartet to perform a string quartet, without altering any of the parts.

The Symphony Society Bulletin was a newsletter produced in advance of the New York Symphony concerts. It is not known at this time if what was programmed actually happened. There is no known complete set of New York Symphony programs so all performance information is compiled from a variety of sources.
Project Funder:
Collection Guarantor: