Young People's Concerts: WNYC Broadcast, Aug 18, 1954 - Apr 11, 1955
ID:

019-03-50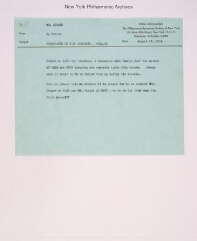 Contact Us
to access this folder.
Folder Title
Young People's Concerts: WNYC Broadcast
Dates
Aug 18, 1954 - Apr 11, 1955
Subjects
Names
Abstract
ALS-Bernard Buck, ALS-Bruno Zirato, ALS-Phyllis Laver. WNYC to broadcast Town Hall series; Facts about Young People's Concerts and plans for 1954-55 season; Short biographies on Wilfrid Pelletier and child-soloist James Buswell; Timing schedule.
Project Funder
Collection Guarantor