Found In:
Programs >
1904-05 Season >
Special
1905 Jun 05 / Special / Damrosch
ID:

10535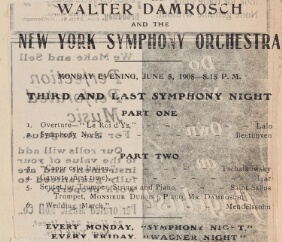 View Program
Notes
Program may have taken place at "New York Theatre Roof", Broadway between 44th and 45th streets "Over New York and Criterion Theatres", Klaw and Erlanger, managers.
("Every Monday, 'Symphony Night'; Every Friday, 'Wagner Night'")
"Third and Last Symphony Night"

NOTE NY Times note, June 6th, states: "Wagner Night on the New York Roof. Walter Damrosch's orchestra will have an extra Wagner celebration to-night on the New York Theatre roof garden. Albert Janpolski, the baritone, will sing Wotan's farewell from "Die Walkure." No further information about this additional concert (taking place on June 6th) is known.
Project Funder:
Collection Guarantor: