Found In:
Communications/Public Relations > Press Clippings
1954-55 Scrapbook (Part 2 of 3), Jul 3, 1954 - Jun 30, 1955
ID:

555-065-02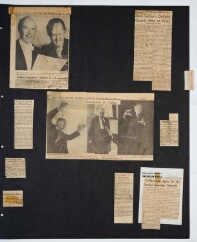 View Folder
Record Group
Communications/Public Relations
Series
Folder Title
1954-55 Scrapbook (Part 2 of 3)
Dates
Jul 3, 1954 - Jun 30, 1955
Subjects
Names
Abstract
- Special Saturday evening concerts under Andre Kostelanetz continued given popular demand - Philharmoic season opening concert on October 7,1954, broadcast by closed circuit TV to theatres thrughou the country, featuring Act I of Wagner's Die Walkuere, sponored by the National Federation of Music Clubs - Mitropouos recording of Shostakovich Symphony No. 10 - Release by Coolumbia Records of set of Brahms orchestrl music recorded by the Philharmoic under Bruno Walter - New recordings by the Philharmonic under various composers on Columbia Records - Reviews of concerts by the Philharmoic on US transcontinental tour Apring 1955 - Pension Fund Benefit Concert by the New York Philhsrmoic under Richard Rodgers, including his new suite Victory at Sea, Rogers first full concert with a major symphony orchestra - Rodger's scores given to the Library of Congress - Brochure for 1954-55 Season of the New York Philharmonic - Mostly favorable reviews of season opening performances of Act I of Wagner's Die Walkuere, featuring soprano Astrid Varnay, tenor Ramon Vinay and bass Luben Vichey - Strong reception for Mitropoulos' performances of the new Shostakovich 10th Symhony in its American Premiere, October 1954, for which high sums of money wrre paid for the priveledge of the American Premiere of a new major work by one of the great composers of the time - Symphony No. 10 of Shostakovich receives very high praise from the critics, compared favorably with the popular Symphony No.. 5, although some critics found fault with the new symphonyStrong rec - Robert Casadesus plays Mozrt's Coronation Concerto in D. K 537) amd Beethoven's "Emperor" to mark his 20th annversary as piano soloist with the Philharmonic to high acclaim for the interpretive skill of the conductor and the soloist in these msjor work' - Raya Garbousova praised for her premiere performance of Rieti's Cello Concerto No. 2 - Vaughn Wiliams' Symphony No. 4 high acclaimed in performances by Dimitri Mitropoulos and the Philharmonic - Virtuoso pianist Pietro Scarpini makes his impressive debut playing Prokofieff's Piano Concerto No. 2 - Amereican premiere of Nikos Skalotas' Greek Dances, judged to be a noisy but effective concert closer - Zino Francescatti praised for his performance of the Mendelssohn E-minor Violin Concerto - Enthusiastic uadience reception to debut of 18-year old pianist Van Cliburn in an electrifying performance of Tschaikovsky's Piano Concerto No. 1 - Special concert under Leopold Stokowskiwith piano soloist Gary Graffman marks the bicentennial of Columbia Univrsity with music by composers asociated with the university - Bruno Walter returns with Wagner's Faust Overture, the beethoven G-Major Concerto with Clifford Curzon and a rare performance of the Symphonie Fantastique of Hector Berlioz - High praise for the deeply penetrating iperformance of Beethoven's Piano Conerto No. 4 by pianist Clifford Curzon and conductor Bruno Walter - NYP premiere of Roy Harris' "Symphonic Epigram" dedicated to the CBS Radio Network in honor of the 25th season of Philharmonic-Symphony broadcasts - Franco Autori conducts Norman Dello-Joio's Variations, Chaconne and Finale - Debut of Ruggiero Ricci in Tchaikovsky's Violin Concerto - George Szell conducts the Premiere of Boris Blacher's s "Variations on a Theme of Paganini" - Nathan Milstein highly praised for his performances of Bach's Concerto in A-minor and Bruch's Violin Concerto in G-Minor, which received a particuarly superb and imaginative performance - NYP premiere of Ernst Toch's "Circus" Overture conduced by Andre Kostelanetz - Josef Szigeti plays rarely heard works of Bach and Bartok - Criticism of the size of the orchestra used to accompany Erica Morini in Beethoven's Violin Concerto
Project Funder
Preferred Citation
1954-55 Scrapbook (Part 2 of 3), 3 Jul 1954 - 30 Jun 1955, Folder 555-065-02, Communications/Public Relations Records, New York Philharmonic Leon Levy Digital Archives.
https://archives.nyphil.org/index.php/artifact/2e1bf1f9-0e8f-4486-b6a1-0870ae69173c-0.1