Found In:
Communications/Public Relations > Press Clippings
1929-30 Scrapbook (Part 3 of 3), Feb 14, 1930 - Aug 26, 1930
ID:

555-013-03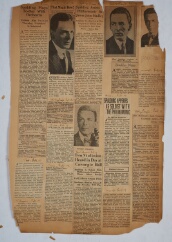 View Folder
Record Group
Communications/Public Relations
Series
Folder Title
1929-30 Scrapbook (Part 3 of 3)
Dates
Feb 14, 1930 - Aug 26, 1930
Subjects
Names
Abstract
- Albert Spalding appears as soloist with Philharmonic - Plan for an expanded season of children's educational concerts led by Ernest Schelling - Suzanne Walsh, six years old, wins prize as orchestra critic. Presented by Toscanini. - World premiere of Zoltan Kodaly's "Sommerabend" - New York debut of Eugene Goosens's "Sinfonietta" - Toscanini leads New York Philharmonic in "Funeral March" in honor of the late Cosima Wagner - Toscanini angered by lengthy audience applause - Dissatisfaction among subscribers over the choice of works Toscanini elects to conduct. Criticism over lack of American composers being featured - Erich Kleiber to conduct under Toscanini - Love letter sent by Napolean Bonaparte to Josephine de Beauharnais was brought to New York by Vincent Vanni of the New York Philharmonic - Toscanini, guest conductor during Wagner Festival
Project Funder
Preferred Citation
1929-30 Scrapbook (Part 3 of 3), 14 Feb 1930 - 26 Aug 1930, Folder 555-013-03, Communications/Public Relations Records, New York Philharmonic Shelby White & Leon Levy Digital Archives.
https://archives.nyphil.org/index.php/artifact/2faf6552-e400-46b9-88bf-5f062f50bb8b-0.1