Found In:
Communications/Public Relations > Press Clippings
1944 Stadium Scrapbook (Part 2 of 2), Jul 7, 1944 - Aug 24, 1944
ID:

555-046-03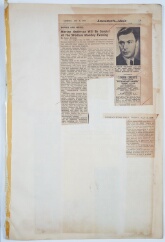 View Folder
Record Group
Communications/Public Relations
Series
Folder Title
1944 Stadium Scrapbook (Part 2 of 2)
Dates
Jul 7, 1944 - Aug 24, 1944
Subjects
Names
Abstract
- Ballet program announced with Alicia Markova and Anton Dolin - Vladimir Golschmann ends tenure as guest conductor, passes baton to Efrem Kurtz - Marian Anderson gives annual solo performance at the Stadium with Efrem Kurtz conducting - General Charles de Gaulle, president of the French Committee of National Liberation, attends Marian Anderson's performance with Mayor LaGuardia, Marian Anderson is joined by the crowd in a rendition of La Marseillaise - Kurtz conducts three works by Stravinsky, including the New York premiere of "Four Norwegian Moods" - Leonard Bernstein makes his Lewisohn Stadium debut, presents a program featuring Nathan Milstein as soloist on Mendelssohn's Violin Concerto in E-minor - After Dorle Jarmel expresses trepidation in playing the violin for Toscanini, Toscanini replies, "That shouldn't make any difference. I play the cello poorly, and I play for Toscanini." - Alicia Markova and Anton Dolin dance in a combined ballet-symphony program at Lewisohn Stadium, with Antal Dorati conducting - Ballet drawsa crowd of 22,000, matching the Marian Anderson performance one week prior - Alexander Smallens conducts the Philharmonic in an all-Tchaikovsky program - Stadium War-Time Season - Profile of Minnie Guggenheimer in The New York Times Magazine - Students receive half-price tickets at "N.Y.U. Night" at Lewisohn Stadium - Bernstein conducts his own work, the Jeremiah Symphony, at the Staidum with Jennie Troubel, mezzo-soprano from the Metropolitan, as soloist - Opera is a success at the Stadium concerts with performances of "Aida" and "Traviata" - Robert Stolz leads the Philharmonic is a festival of Viennese music with vocal performances from Hertha Glaz and Mario Berini - "Army and Navy Night," dedicated to the Allied forces overseas, is offered as part of the sixth week of Stadium Concerts, conducted by Warrant Officer Thor Johnson - Servicemen Arthur Whittemore and Jack Lowe are the featured soloist on the Armed Forces program - Bruna Castagna returns for the second time in the season to sing the title role of Bizet's Carmen - Ignace Strasfogel, pianist of the Philharmonic, adopts the role of conductor; Amparo Iturbi closes program with a performance of Liszt's Fantasia on Hungarian Melodies for Piano and Orchestra - Lionel Barrymore makes his debut as a symphonic composer - Reflections on the opening weeks of the Stadium season - Gala ballet program scheduled at Lewisohn Stadium with Mia Slavenska, Leonide Massine, Igor Youskevitch, Yura Lazovski, and a couple dancers from Miss Slavenska's company - Sgt. Eugene List performs Gershwin's Rhapsody in Blue as part of an Army and Navy Night program dedicated to the Allied troops - Jascha Heifetz plays at Lewisohn Stadium in his first appearance back in New York after a tour of military bases in Italy and North Africa - Lorin Maazel conducts the New York Philharmonic at 14 - Fabien Sevitsky conducts in his debut with the Philharmonic and his debut at the Stadium, Josef Lhévinne adds familiarity to the program as a soloist - Grace Moore makes her Stadium debut in the final week of the season - Smallens conducts the New York premiere of Marc Blitzstein's Symphonic Poem, "Freedom Morning" - Grace Moore is called by the audience for five encores on her debut - The Philharmonic observes the 20th anniversary of WNYC - Total attendance for the season sees an increase of close to 50,000 over the 1943 season - A new work by Robert C. Schenk, Stadium March, is dedicated to Minnie Guggenheimer and performed at Lewisohn Stadium in the final concert of the season
Project Funder
Preferred Citation
1944 Stadium Scrapbook (Part 2 of 2), 7 Jul 1944 - 24 Aug 1944, Folder 555-046-03, Communications/Public Relations Records, New York Philharmonic Leon Levy Digital Archives.
https://archives.nyphil.org/index.php/artifact/2fe39985-fc3e-455d-be15-871fa2965006-0.1