Found In:
Communications/Public Relations > Press Clippings
1943-1944 Scrapbook (Part 2 of 6), Nov 15, 1943 - Jan 24, 1944
ID:

555-044-02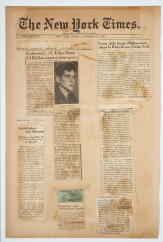 View Folder
Record Group
Communications/Public Relations
Series
Folder Title
1943-1944 Scrapbook (Part 2 of 6)
Dates
Nov 15, 1943 - Jan 24, 1944
Subjects
Names
Abstract
- Leonard Bernstein makes his Philharmonic debut, replacing Bruno Walter with only a few hours notice after Walter fell ill. Bernstein becomes the youngest man to conduct a Philharmonic-Symphony subscription concert - Background pieces on Bernstein folowing his debut - First of Rodzinski's "reading rehearsals for contemporary music," conducted by Bernstein for an audience of nineteen people - World premiere of John Alden Carpenter's The Anxious Bugler, commissioned by the League of Composers as part of their initiative to produce works inspired by the war - Pvt. Leonard Pennario is soloist on the Liszt E flat concerto - Eugene Istomin, winner of the Leventritt Award, makes his Philharmonic debut at Carnegie Hall as soloist on Brahms' Second Piano Concerto - Obituary for Walter Winston Price, former member of the Philharmonic Board of Directors - World premiere of Nicolai Berezowsky's Soldier on the Town as part of the World War II commission - Huge attendance at Carnegie Hall to hear Vladimir Horowitz as soloist on Rachmaninoff's Third Piano Concerto - Shostakovich sells the broadcast rights to the first American performance of his eighth symphony to CBS for ten thousand dollars; CBS in turn gives broadcast honors to Artur Rodzinski and the New York Philharmonic - Philharmonic present concerts dedicated to "the suffering of the oppressed," victims of the Nazis and Facist tyranny around the world; Bernstein conducts Bloch's Three Jewish Poems while Rodzinski leads Mahler's Symphony No. 2 on the second half of the program - Strong praise for Erica Morini for her performance of Glazunoff's Concerto in A minor - William Lincer appointed solo viola of the Philharmonic - Profile on Joseph Schuster, cellist, including the story of how he met his wife - Rodzinski conducts the Philharmonic at Kingston Municipal Auditorium in a free Civilian Morale concert, organized by the American Federation of Musicians - Koussevitsky leads the Boston Symphony in their opening concert at Carnegie Hall; Bernstein in attendence - Rudolph Ganz opens the new season of Young People's Concerts - Leonard Bernstein conducts a lively performance of the Star Spangled Banner before conducting Bloch's Three Jewish Poems - Artur Rodzinski is awarded the Mahler Medal by the Bruckner Society - Rodzinski swaps goats for bees on his farm in Stockbridge - Disappearance of Dr. Boris Dubinsky reported to the police; The composer was scheduled to direct the Philharmonic in the performance of his own work in March, 1944 - Mayor La Guardia opens the New York City Center of Music and Drama - A New York Philharmonic audience poll on "my favorite symphony" reveals conservative tastes, with Beethoven receiving the most votes, Brahms the second, and Schubert the third - John Corigliano's missing dog, Lucky, is found after a 14-hour search - Rodzinski, with Arthur Rubinstein as soloist, leads the orchestra in a concert to commemorate the 25th anniversary of the restoration of the republic of Poland - Howard Barlow leads the orchestra in the premieres of Christmas works from Deems Taylor and Nicolai Berezowsky - Metropolitan Opera asks public for a three-hundred-thousand dollar fund to cover its deficit - Helen Huntington Hull hosts a supper to honor guest conductor Howard Barlow - Bernard Herrmann leads the orchestra in the premiere of his own For the Fallen; Bernstein conducts the remainder of the program in replace of Howard Barlow; Albert Spalding is soloist on the Beethoven violin concerto - Roszinski conducts the premiere of Roy Harris' March in Time of War as part of the League of Composers WWII commission - Premiere of William Grant Still's In Memoriam: The Colored Soldiers who Who Died for Democracy - Rodzinski calls boogie-woogie "one of the greatest causes of delinquency among American youth today," calls fans of Sinatra "pitiful cases"; Sinatra calls claims by Rodzinski "nuts" - LIFE magazine profile of Arturo Toscanini
Project Funder
Preferred Citation
1943-1944 Scrapbook (Part 2 of 6), 15 Nov 1943 - 24 Jan 1944, Folder 555-044-02, Communications/Public Relations Records, New York Philharmonic Leon Levy Digital Archives.
https://archives.nyphil.org/index.php/artifact/31a92052-8797-4a22-a99e-798f4d100a51-0.1