Found In:
Communications/Public Relations > Press Clippings
1952-53 Scrapbook (Part 2 of 2), Dec 31, 1952 - May 31, 1953
ID:

555-061-02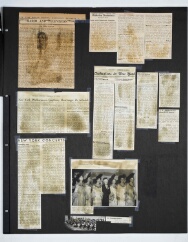 Record Group
Communications/Public Relations
Series
Folder Title
1952-53 Scrapbook (Part 2 of 2)
Dates
Dec 31, 1952 - May 31, 1953
Subjects
Names
Abstract
- New York Philharmonic rearranges its schedule due to the hospitalization of Dimitri Mitropoulos due to physcal exhaustion. Dates in January and February to be filled by George Szell, Bruno Walter, Vladimir Golschmann and Efrem Kurtz - Bruno Walter conducts Mahler Songs and his Symphony No. 4 featuring soprano Irmgard Seefried - Clifford Curzon is soloist in Brahms Piano Concerto No. 2 with George Szell and the Philharmonic - Vladimir Horowitz celebrates the 25th Anniversary of his American debut with the New York Philharmonic with a performance of the Tschaikovsky Piano Concerto No.1 with George Szell and the Philharmonic for the benefit of the orchestra pension fund - Article, "The Transformation of Vladimir Horowitz," by Howard Taubman, The New York Times Magazine, January 11, 1953 - Igor Stravinsky to conduct the Philharmonic for one week in place of Dimitri Mitropoulos - Arthur Grumiaux plays Mozart and Ravle with Szell and the Philharmonic - Objection to playing Copland's Lincoln Portrait at the Eisenhower Inaugural Concert at Constitution Hll on the ground that Copland had associated with Communist front groups - Vladimir Golschmann conducts the Philharmonic for 2 weeks in place of Mitropoulos - Philarmonic raises \$100,000, 2/3 of the amount sought - Mischa plays the Tchaikovky Violin Concerto with Golschmann and the Philharmonic - Dame Myra Hess plays the American Premiere of Howard Ferguson's Concerto for Piano and Strings with Efrem Kurtz and the Philharmonic - John Corigliano and William Lincer heard in Mozart's Symphonie Concertante under Bruno Walter - Bruno Walter gives a glowing account of Dvorak's G-Major Symphony No. 4 (8) - Elena Nikolaidi and Set Svanholm are soloists in Mahler's Das Lied von der Erde conducted by Bruno Walter, to general and glowing critical acclaim - Igor Stravinsky conducts a diverse all-Stravinsky program with the Philharmonic, mostly of music not often performed - Bruno Walter conducts a Pension Fund Benefit program consisting of Bruckner's Te Deum and Beethoven's Ninth Symphony to a roaring enthusiastic reception from the audience and the critic - Recently discovered C-Major Symphony by Mozart, composed at the age of 14 and first performed in 1946, played by Guido Cantelli and the Philharmonic - Great reviews for the conducting by Guido Cantelli of Bartok's Concerto for Orchestra and Beethoven's 7th Symphony - Profile of George Templeton Strong who was President of the Philharmonic Society in the mid-19th Century and a noted diarist about performances of the orchestra including the very first in Deember 1842; Unpublised excerpts from the noted diaries of George Templeton Strong describing musical life in New York from 1835 to 1876 - Death of Sergei Prokfieff - Cantelli conducts American premiere of a recently discovered Mozart Symphony in C, presumably written when he was 14 - 15-year old Marcia Heller wins 5th Annual Young Competition Award, which involves a performance at a Young People's Concert - Cantelli conducts Philharmonic Premiere of Ghedini's Concerto of the Albatross, from an episode in Melville's Moby Dick, to a lukewarm reception - Rudolf Serkin celebrates his 50th Birthday with performances of Mozart's D-Minor Concerto and Beethoven's 1st Concerto under Guido Cantelli - First American performances of pieces by Gabrieli and Pizzetti conducted by Cantelli - Cantelli conducts exciting performance of Moussorgsky's Pictures at an Exhibition orchestrated by Ravel, postponed from the previous season - Mitropoulos returns after his enforced rest period to conduct Prokofieff's Symphony No. 5 in memory of the composer who recently died and Vaughan Williams Symphony No. 4 - Eleanor Stever and Dimitri Mitropoulos gave the first complete performance with orchestra of Berlioz' song cycle Nuits d'Ete - Art show by members of the Philharmonic - Mixed reviews for Scriabin's Prometheus: The Poem of Fire, performed by Mitropoulos and the Philharmonic using an oversized orchestra - World Premiere of Arthur Berger's Ideas of Order - William Kapell plays Brahms D-minor Piano Concerto with Mitropoulos and the Phiharmonic - Dorle Jarmel resigns after many yeas as head of the Press Department of the Philharmonic - American Premiere of Gottfried von Einem's Orchestermusik, well received - Warm reception for Scriabin's Poem of Ecstasy conducted by Mitropoulos - Premere of George Rohberg's Night Music, winner of the Gershwin Memorial award - Milstein plays the Prokofieff Violin Concerto No. 1 to considerable acclaim - Nathan Milstein and Dimitri Mitrooulos close the Philarmonic season with the Mendelssohn Violin Concerto, the Chausson symphony and Ravel's La Valse - Death of Simeone Bellison, principal clarinetist of the Philharmonic - Death of American Violinist Albert Spalding - Simeon Billison, Obituary - Albert Spalding, Obituary
Project Funder
Preferred Citation
1952-53 Scrapbook (Part 2 of 2), 31 Dec 1952 - 31 May 1953, Folder 555-061-02, Communications/Public Relations Records, New York Philharmonic Leon Levy Digital Archives.
https://archives.nyphil.org/index.php/artifact/333a41f6-d8c0-48e6-b773-c657cfcac7f5-0.1