Young People's Concerts: Soloists, Apr 4, 1955 - May 7, 1956
ID:

019-13-33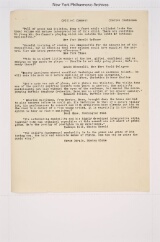 Contact Us
to access this folder.
Folder Title
Young People's Concerts: Soloists
Dates
Apr 4, 1955 - May 7, 1956
Subjects
Names
Abstract
AL S-Charles Castleman; ALS-Rosina Lhevinne; ALS-Leonore Kerz. Biography of Tong Il Han and Charles Castleman; Audition application; Correspondence regarding Tong Il Han; Publicity flyring er; List of teen-age string players who performed with the Phlharmonic
Project Funder
Preferred Citation
Young People's Concerts: Soloists, 4 Apr 1955 - 7 May 1956, Folder 019-13-33, Education Records, New York Philharmonic Leon Levy Digital Archives.
https://archives.nyphil.org/index.php/artifact/336aa3bd-2acf-4f28-b29d-863fe95f22a0-0.1