Found In:
Executive > Zirato, Bruno
Rodzinski, Artur, May 3, 1943 - Sep 6, 1943
ID:

011-01-71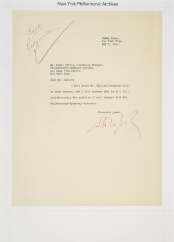 Folder Title
Dates
May 3, 1943 - Sep 6, 1943
Subjects
Names
Abstract
ALS-Artur Rodzinski, ALS-Robert Rockmore. Appointment of Leonard Bernstein as Assistant Conductor; Problems arising from possible draft of orchestra members; Inquiry requesting first American performance of Fifth Symphony by Ralph Vaughn Williams; Auditions held only with the permission of the Union; Conflicts with management regarding programs and orchestra personnel.
Project Funder
Preferred Citation
Rodzinski, Artur, 3 May 1943 - 6 Sep 1943, Folder 011-01-71, Executive Records, New York Philharmonic Leon Levy Digital Archives.
https://archives.nyphil.org/index.php/artifact/3846a373-ab9a-48a1-b809-fb454646ca57-0.1