Found In:
Programs >
1900-01 Season >
Tour
1901 Jul 01 / Tour / Damrosch
ID:

9926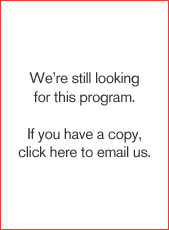 Notes
Program says that "Adagio" from Bach's Concerto for Two Violins was performed, however that work does not have an "Adagio." The "Largo" seems like the best choice, as the only slow movement.
Gluck: listed in program as "Old French Dances"; assumed the Mottl arrangement of the Suite #2 to match other programs on the tour.
Project Funder:
Collection Guarantor: