High School Concerts 1956-57, Jan 10, 1957 - Mar 5, 1957
ID:

015-02-30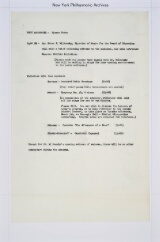 Contact Us
to access this folder.
Folder Title
High School Concerts 1956-57
Dates
Jan 10, 1957 - Mar 5, 1957
Subjects
Names
Abstract
Programs of Student Concerts, 1956-57; Arrangements; correspondence; Invitations and guest list for tea hosted by Mrs. Janos Scholz in celebration of High School Concert of March 5, 1957 at Carnegie Hall; Concert planning.
Project Funder
Preferred Citation
High School Concerts 1956-57, 10 Jan 1957 - 5 Mar 1957, Folder 015-02-30, Education Records, New York Philharmonic Leon Levy Digital Archives.
https://archives.nyphil.org/index.php/artifact/3d73618c-5708-49a9-b796-b126481234a2-0.1