Found In:
Communications/Public Relations > Press Clippings
1963-64 Scrapbook, Volume IV, Jun 18, 1963 - May 31, 1964
ID:

555-094-02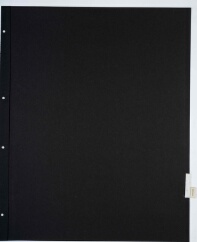 View Folder
Record Group
Communications/Public Relations
Series
Sub-Series
Size
Folder Title
1963-64 Scrapbook, Volume IV
Dates
Jun 18, 1963 - May 31, 1964
Subjects
Names
Abstract
- Record releases and reviews - Radio and television broadcast advertisements and reviews - Leonard Bernstein receives Television Award Trophy from Sigma Alpha Iota for 1962 winning series-program, "Leonard Bernstein and the New York Philharmonic" - Keyboard Jr. publication Volume 22, Number 6 from March 1964 - Article on Shostakovich Symphony No. 5 - First anniversary celebration for Lincoln Center - Article on this history of Mahler and the Philharmonic - Bernstein conducts the Philharmonic in a performance in Washington Park in Milwaukee, WI - Jascha Heifetz and Gregor Piatigorsky featured at Hollywood Bowl on 1 Sep 1963 - George Szell and the Cleveland Orchestra announces a tour to the Soviety Union - Special YPC "The Genius of Paul Hindemith," "A Tribute to Teachers," "Jazz in the Concert Hall" - Profile on mezzo-soprano Regina Sarfaty - Profile on composer Iannis Xenakis - John Cage organizes lengthy performance of Erik Satie's "Vexations" performed 840 times in succession by a relay team of ten pianists - Broadway musicians may strike - Arthur Judson resigns from Columbia Artists Management - Rudolf Bing and President Kennedy announce that the Metropolitan Opera will establish a junior touring company - Profile of mezzo-soprano Shirley Verrett - Premiere of Lukas Foss "This Sacred Ground" by Buffalo Philharmonic - Schuyler G. Chapin, vice-president of Columbia Records, to be vice-president of Lincoln Center - Premiere of Shostakovich Symphony No. 13 in Moscow
Project Funder
Preferred Citation
1963-64 Scrapbook, Volume IV, 18 Jun 1963 - 31 May 1964, Folder 555-094-02, Communications/Public Relations Records, New York Philharmonic Leon Levy Digital Archives.
https://archives.nyphil.org/index.php/artifact/3dd2fe2d-77a3-42fd-b84c-8511a4fcfadf-0.1