Found In:
Programs >
1925-26 Season >
Runout
1926 Feb 10 / Runout / Damrosch
ID:

10285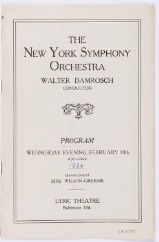 View Program
Works
Wagner / Rienzi, der Letzte der Tribunen, WWV 49

Overture
"Jauchzet, ihr Täler!" Peace Messengers (chorus), Act II, scene i
"Er geht und lasst mir meinem Schutz," Irene/Ariano (duet), Act I
"Allmacht'ger Vater" (Rienzi's prayer), Rienzi, Act V, scene i
"Gerechter Gott...In seiner Blute," Adriano (aria), Act II
"Trompeten schmettert, Trommeln wirbelt drein!" (Battle Hymn), Soldiers' chorus/Rienzi, Act III, Finale

Intermission
Wagner / Parsifal, WWV 11
Notes
Chorus of Peace Messengers: Baker and Women's Chorus
Battle Hymn: Davis and Male Chorus
Parsifal: The Entire Temple Scene, Act I. Including the Processional of the Knights of the Holy Grail, the Lament of Amfortas, the Ceremony of the Lord's Supper, and the Divine Prophecy. Mr. Frederic Baer (Amfortas) and chorus of sopranos, altos, tenors and basses.

The Symphony Society Bulletin was a newsletter produced in advance of the New York Symphony concerts. It is not known at this time if what was programmed actually happened. There is no known complete set of New York Symphony programs so all performance information is compiled from a variety of sources.
Project Funder:
Collection Guarantor: