Found In:
Programs >
1923-24 Season >
Young People's Concert
1924 Mar 01 / Young People's Concert / Pollain
ID:

10312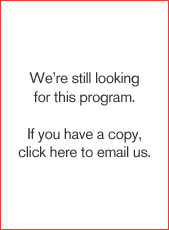 Notes
Dance Program
Part II: Virginie Mauret and Ensemble Choreographique, choreography by Virginie Mauret.
Sarasate: (Created by Michel Folkine)
Tchaikovsky: (Created by Michel Folkine)
Ippolitov-Ivanov: program lists work as "Danse Tartare"; this is assumed to be referring to his Lezghinka Dance, as the Lezgins occupy a region overlapping with the Tartars (I do not know if they're distinct ethnic groups)

Ensemble: Mlles. Terry Bauer, Marcelle Du Lac, Anita Gordon.
Costumes for Dances 1 and 6 designed by Guilbert Roso

The Symphony Society Bulletin was a newsletter produced in advance of the New York Symphony concerts. It is not known at this time if what was programmed actually happened. There is no known complete set of New York Symphony programs so all performance information is compiled from a variety of sources.
Project Funder:
Collection Guarantor: