Young People's Concerts: Viennese Program, Oct 20, 1966 - Aug 16, 1968
ID:

020-11-30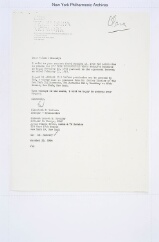 Contact Us
to access this folder.
Folder Title
Young People's Concerts: Viennese Program
Dates
Oct 20, 1966 - Aug 16, 1968
Subjects
Names
Abstract
Memos; correspondence from Weissel; CBS coverage; LS-Waldheim, Kurt; Request by the Armed Forces Television Serviceto record and distribute Young People's Concerts telecasts; List of Armed Forces Television Outlets; Script for "A Toast to Vienna in 3/4 Time", YPC concert and telecast on October 28, 1967 featuring music of J. Strauss, R. Strrauss, Mozart and Beethoven; Letters to various distinguished Austrians re YPC program of Viennese music; Script of "Quiz-Concert", February 24, 1968; dates of CBS telecasts of YP concerts; Photograph release by Leonard Bernstein to Polaroid in connection with advertisement for rebroadcast of YPC telecasts; Correspondence on residuals from telecast of "A Toast to Vienna" in Austria; Ratings for YPC telecasts.
Project Funder
Preferred Citation
Young People's Concerts: Viennese Program, 20 Oct 1966 - 16 Aug 1968, Folder 020-11-30, Education Records, New York Philharmonic Leon Levy Digital Archives.
https://archives.nyphil.org/index.php/artifact/4e2b5155-9b02-406f-baeb-cca053d92be3-0.1