Found In:
Programs >
1955-56 Season >
Stadium Concert
1956 Jul 07 / Stadium Concert / Antonini
ID:

11181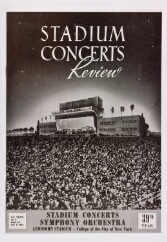 View Program
Works
Rossini / Il Signor Bruschino
Bellini / I Puritani

Elvira (aria): "Qui la voce...Vien, diletto"

Verdi / Ernani

"Ernani, Ernani involami," Elvira, act I, scene iii

Ponchielli / La Gioconda
Puccini / La Bohème

"Che gelida manina," Rodolfo (aria), Act I

Respighi / Rossiniana

Tarantella, "Puro Sangue"

Intermission
Verdi / Nabucco
Verdi / Aïda

"Celeste Aida," Radamès (aria), Act I

Puccini / Madama Butterfly

"Un bel dì vedremo," Cio-Cio-San (aria), Act II

Verdi / La Traviata

"È strano!...Ah, fors' è lui...Sempre libera," Violetta, Act I, scene v

Giordano / Andrea Chenier
Notes
ITALIAN NIGHT

From NY Times July 9, 1956: "Just after the intermission Mrs. Charles S. Guggenheimer, guiding spirit of the Stadium Concerts, introduced three celebrities to the audience. They were Michael Della Rocca, Gino Prato and Bayard MacMichael, three specialists on opera who had appeared with notable financial success on the television show 'The \$64,000 Question.' Each said a few words in praise of music."
Project Funder:
Collection Guarantor: