Found In:
Communications/Public Relations > Press Clippings
1937-38 Scrapbook (Part 2 of 2), Jan 21, 1938 - Jun 21, 1938
ID:

555-028-02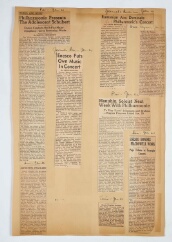 Record Group
Communications/Public Relations
Series
Folder Title
1937-38 Scrapbook (Part 2 of 2)
Dates
Jan 21, 1938 - Jun 21, 1938
Subjects
Names
Abstract
- Georges Enesco featured as guest conductor and offers three Romanian works their American premieres: Enesco's own Romanian Rhapsody No. 1, Op. 11*, Burial at the Cemetery of the Poor by Rogalski, and "Dance in C major, Op. 3, No. 2 from Three Symphonic Tableaux by Andrico - First cellist Joseph Schuster performs Dvorak and Haydn concertos - Enesco conducts selections from Wagner operas - Barbirolli's return to the Philharmonic is delayed due to travel issues; Enesco's engagement is extended - Advertisement for the newly formed Philharmonic-Symphont League, Ruth (Mrs. John T.) Pratt, chairman - Passing of Lucie Schelling, philanthropist and wife of Ernest Schelling - First place in the Philharmonic Symphony's American Composer Contest is split between two winners, Charles Haubiel and Robert Sanders - 32 children, ages 6 to 15, receive awards for music from the Philharmonic - Death of Henry Jenkel, Philharmonic bassist - Barbirolli conducts Philharmonic premiere of excerpts from "The Fairy Queen" by Purcell - Deems Taylor prepares concert performance of scenes from his opera "Peter Ibbetson" - Profile on Ruth Pratt, former representative now chairman of the new Philharmonic-Symphony League - American premiere of Barber's School for Scandal Overture - Philharmonic debut of Quincy Porter, who will conduct the premiere of his own first symphony - Profile of composer-pianist Abram Chasins, who will have his Philharmonic debut as soloist in his own Second Piano Concerto - May Day Music Festival features combined chorus of 400 and soloists from the Metropolitan Opera to join Philharmonic and costumed dancers on program - Article with several quotes from John Barbirolli about his life, aspirations, and opinions; "I've never led a jazz orchestra. Blues are all right but I hate swing."; "I get pretty tired, but I can go on dead tired and hear the music and the tiredness all goes." ;"I don't eat much during the day. But after a concert I'll eat anything. The best thing of all: noodles." - New York premieres of Malipiero's Symphony No. 2 ("Elegiaca"), Delius's Appalachia, and Ireland's London Overture - Preview for the 1939 World's Fair - Death of former Philharmonic horn player Xavier Reiter
Project Funder
Preferred Citation
1937-38 Scrapbook (Part 2 of 2), 21 Jan 1938 - 21 Jun 1938, Folder 555-028-02, Communications/Public Relations Records, New York Philharmonic Shelby White & Leon Levy Digital Archives.
https://archives.nyphil.org/index.php/artifact/559d6746-1372-4eae-8be9-6ca1993105ba-0.1