Found In:
Communications/Public Relations > Press Clippings
1951-52 Scrapbook (Part 2 of 2), Jan 3, 1952 - Jun 30, 1952
ID:

555-060-02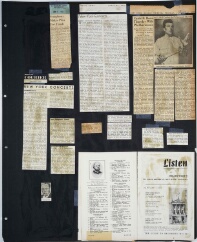 View Folder
Record Group
Communications/Public Relations
Series
Folder Title
1951-52 Scrapbook (Part 2 of 2)
Dates
Jan 3, 1952 - Jun 30, 1952
Subjects
Names
Abstract
- Guido Cantelli, 31-year old protege of Arturo Toscanini, makes debut with the New York Philharmonic - Auspicious debut by Guido Cantelli includes Monteverdi's Magnificat, four pieces by Frescobaldi orchestrated by Ghedini, and Beethoven's Fifth Symphony - Pension Fund Benefit Concert with violinist Nathan Milstein, cellist Leonard Rose, and pianist Myra Hess, conducted by George Szell - Franco Autori substitutes for Guido Cantelli who was ill with influenza, in a program featuring Beethoven's Emperor Concerto with pianist Clifford Curzon - Additional articles on the Philharmonic recording of Berg's Wozzeck conducted by Mitropoulos - Howard Swanson's Short Symphony wins the New York Music Critics Circle Award - Plans for a new Metropolitan Opera House on Columbus Circle - Rudolf Firkusny again plays Menotti''s Piano Concerto in F with the Philharmonic, this time under Cantelli - Praise for Cantelli's performance of Paul Hindemith's Mathis der Maler and Mussorgsky/Ravel Pictures at an Exhibition - Kirsten Flagstad presented her last recital at Carnegie Hall but will sing Alceste at the Metropolitan and will be the soloist with the Philharmonic in a Wagner program to close her career - Nicole Henriot played the Liszt Piano Concerto No. 1 with the Philharmonic under Cantelli - Praise for the Grieg Piano Concerto played by Gina Bachauer with the Philharmonic under Mitropoulos - Frances Magnes plays the New York Premiere of Dohnanyi's Violin Concerto No. 2, in which no violins play in the accompanying orchestra - Mitropoulos leads Monteverdi's Orfeo in an arrangement for modern orchestra by Ottorino Respighi, with the Schola Cantorum and a distinguished cast led by Mack Harrell - Mitropoulos conducts Beethoven's Pastorale Symphony and Tchaikovsky's Fifth replacing George Szell who was indisposed - Profile of Helen Huntington Hull - Fritz Reiner conducts Richard Strauss' Elektra at the Metropolitan Opera - Rave reviews for he performances of Brahms' A German Requiem with the Philharmonic, the Wetminster Choir and soloists Nadine Conner and Mack Harrell - Poor reviews for the American Premiere of Jean Rivier's Piano Conerto with pianist Monique de la Bruchollerie - Dimitri Mitropoulos invites students of the Arts Student League to attend rehearsals and paint or sketch whatever inspired them - Timpanist Saul Goodman commissioned by Dimtri Mitropoulos to build four kettledrums for the Athens Conservatory Orchstra - Invitations to attend rehearsals extended to Friends of the Philharmonic by Floyd G. Blair, President of the Board of Directors - Tributes to Maurice Van Praag on his retirement as Personnel Manager of the Philharmonic after 36 years - Kirsten Flagtad receives 21 1/2 minute ovation after her final concert performance in New York with the Philharmonic in an all-Wagner concert conducted by Bruno Walter - Arturo Toscanini at 85 - First staging in New York of Alban Berg's Wozzeck at New York City Opera under Joseph Rosenstock - Robert Casadesus plays the World Premiere of his Suite No. 2 for Piano and Orchestra under Mitropoulos - Brahms Piano Concerto No. 1 performed by William Masselos and the Piano Concerto No. 2 by Robert Casadesus, in the same week under Mitropoulos - Photos of noted conductors - First performance by the Phiharmonic in 143 years in New York of Mendelssohn's Elijah, conducted by Dimitri Mitropoulos with the Westminster Choir and vocal soloists - Concerts by the Philharmonic Chamber Esemble - Artur Rubinstein plays Szymanowski's Symphonie Concertantem Liszt's Piano Concerto No. 1 and Tchaikovsky's Piano Concerto No. 1 - Reviews of the 1951-52 season of the Philharmonic in English and German - Announcement of plans, conductors and soloists for the 1952-53 season of the Philharmonic - Fantasia by 14-year old Ralph Jackno, winner of the YPC Composition Contest, played by the Philharmonic in March 1952 - Advance notices of performances of Moussorgsky's Boris Godunoff at the Metropolitan Opera and of excerpts at the opening concert of the Philharmonic's 1952-53 season, both with bass baritone George London - Performances in Europe by Mitropoulos following the close of his season with the New York Philhamonic - Death of violinist and founder of Busch String Quartet, Adolf Busch in June 1952 - Release of Columbia recording of Schoenberg's Erwartung with Dorothy Dow and the Philharmonic under Dimitri Mitropoulos
Project Funder
Preferred Citation
1951-52 Scrapbook (Part 2 of 2), 3 Jan 1952 - 30 Jun 1952, Folder 555-060-02, Communications/Public Relations Records, New York Philharmonic Leon Levy Digital Archives.
https://archives.nyphil.org/index.php/artifact/560f8348-6b45-4e85-b6f3-a11b411c4157-0.1