Young People's Concerts:, Jul 25, 1962 - Feb 11, 1963
ID:

019-14-02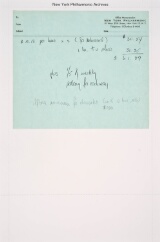 Contact Us
to access this folder.
Folder Title
Dates
Jul 25, 1962 - Feb 11, 1963
Subjects
Names
Abstract
Resume of all televised Young People's Concerts presented over CBS-TV, 1957-61; Press release about Bernstein's commission to write modern musical drama for Ford Festival of Great Music on CBS-TV; Summary of Sources and Payments for Orchestrations; Memos regarding program for Young People's Concert. Programs of Young People's Concerts, 1962-63; Letters and memos regarding four young pianists to appear at Young People's Concert. Biographical sketches of Andre Watts and the other three young pianists; Script for #4 Young People's Concert, 1962-63 season.
Project Funder
Preferred Citation
Young People's Concerts:, 25 Jul 1962 - 11 Feb 1963, Folder 019-14-02, Education Records, New York Philharmonic Leon Levy Digital Archives.
https://archives.nyphil.org/index.php/artifact/5641a4bb-ec99-4bda-a0ea-7db54954a5e1-0.1