Found In:
Programs >
1925-26 Season >
Stadium Concert
1926 Jul 24 / Stadium Concert / Hoogstraten
ID:

12864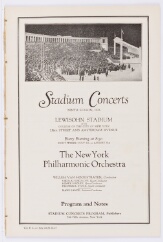 View Program
Notes
With regards to the Charpentier piece, the program says:
"Impressions of Italy (Charpentier): I. Serenade. II. On Mule-back. III. On the Heights. IV. Naples."

"In the Hall of the Mountain King" was repeated as an encore. Checked: Stadium Concert scrapbook, 31 July 2014, Musical America.
Project Funder:
Collection Guarantor: