Found In:
Communications/Public Relations > Press Clippings
1946-47 Scrapbook (Part 3 of 3), Mar 1, 1947 - Jun 29, 1947
ID:

555-052-02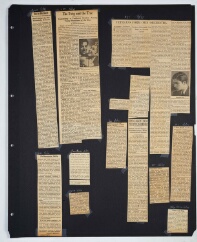 Record Group
Communications/Public Relations
Series
Folder Title
1946-47 Scrapbook (Part 3 of 3)
Dates
Mar 1, 1947 - Jun 29, 1947
Subjects
Names
Abstract
- Walter Hendl, assistant conductor, leads Philharmonic for four conert run - First public performance of the All-Veteran Symphony Orchestra; Walter Hendl conducting, Ruggiero Ricci violin soloist - Witold Malcuzynski is soloist in Rachmaninoff's Concerto for Piano and Orchestra in D minor, No. 3 - Leopold Stokowski leads Philharmonic in the sixth concert in the series presented by the Civic Music Association at the Auditorium - Prizes awarded for best notebooks at Young People's Concerts - Zino Francescatti is soloist on Mendelssohn concerto with Bruno Walter conducting - World Premiere of Peter Menin's Symphony No. 3 conducted by Hendl - Columbia's recording of Symphony No. 4 by Mahler, with Bruno Walter conducting the New York Philharmonic wins prize from Annual Recorded Music Awards - Orchestra gives private concert for Philharmonic Society members at the ballroom of the Hotel Plaza - Robert Casedesus is soloist on French works with the Philharmonic - Efrem Kurtz, director of the Kansas City Philharmonic, to conduct the New York Philharmonic for two weeks at Carnegie Hall with concertmaster John Corigliano, Isaac Stern, and Jascha Heifetz as soloists - Three girls chosen as soloists for the following season's Young People's Concerts - Orchestra signs onto film "Counterpoint" with Ormandy and Rubinstein - Foundation forms in Holland to combat established private managers at Musical Holland - Easter music played at Carnegie Hall - Ania Dorfmann is soloist on Beethoven's "Concerto in C-minor, No.3" - Jesus Maria Sanroma plays Tchaikovsky's First instead of giving the world premiere of the new Hindemith piano concerto. The change was made by Rodzinski before he departed and then upheld by Stokowski - Dorothy Maynor performs three Easter arias for the Easter Sunday intermission - Beethoven's Sixth Symphony performed to commemorate the centenary of the birth of Joseph Pulitzer - New Orleans school system receives gift of a complete library of every recording made by the New York Philharmonic Society; Sponsored by the United States Rubber Company - Vera Zorina is engaged to play Joan of Arc in the American premiere of Jeanne d'Arc au Bucher during the 1947-48 season - Stokowski conducts an all-Russian program during the final week of the season - All-Beethoven program for a Benefit Fund Concert - Local previews from the cities to be visited on the 1947 Spring Tour of the Southern U.S. -80 orchestra members receive a smallpox vaccine after a concert in Baltimore - Stokowski conducts the final concert of the 1946-47 season at the Mosque - Walter Hendl appears as guest conductor and piano soloist with the Pittsburgh Symphony; Hendl shares the program with Fritz Reiner, his former teacher at Curtis Institute - Stokowski holds up concert at the University of Tennessee for ten minutes until photographer provides him with the negative of a photograph taken of Stokowski's wife, Gloria Vanderbilt - First appearance by the Philharmonic in Birmingham in 28 years - Release of the motion picture "Carnegie Hall" - George Szell conducts the Philharmonic on the final night of the Kentuckiana Jubiliee of Music - Dimitri Mintropoulos appears as guest conductor for the touring Philharmonic - Orchestra members on tour - Zino Francescatti and Robert Casadesus combine for a recital at the Town Hall to benefit the Orchestra Pension Fund - Willem Mengelberg had his Dutch Gold Medal of Honor withdrawn by Queen Wilhelmina, due to his perceived ties to Germany and the Nazi party - Orchestra performs for a capacity crow on tour in Colombus - Mitropoulos urges Columbus residents to support their local Columbus Philharmonic Orchestra - Orchestra is well received at the Syria Mosque in Pittsburgh - Winner announced in an essay contest held by the Philharmonic - Henry E. Coe elected to the board of directors - Leonard Bernstein conducts Beethoven's Seventh Symphony at Lewisohn Stadium; Michael Rosenker is soloist on Glazunov concerto
Project Funder
Preferred Citation
1946-47 Scrapbook (Part 3 of 3), 1 Mar 1947 - 29 Jun 1947, Folder 555-052-02, Communications/Public Relations Records, New York Philharmonic Leon Levy Digital Archives.
https://archives.nyphil.org/index.php/artifact/5aa13bbf-cbe5-48ae-ab3b-2837c756ab7a-0.1