Found In:
Programs >
1920-21 Season >
Tour
1921 May 03 / Tour / Stransky
ID:

1919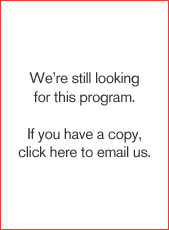 Notes
GRAND JUNCTION, COLORADO
THE ARMORY

Confirmed by review in Grand Junction Daily Sentinel. Review says the encore was Mozart's "Cortege du Sirdar", but this is probably a mistake since the orchestra had not played any Mozart elsewhere on the tour. They had been playing the Ippolitov-Ivanov "Caucasian Sketches", which contains a movement called "Procession of the Sardar", and therefore this is a more likely encore.
Project Funder:
Collection Guarantor: