Found In:
Programs >
1914-15 Season >
Subscription Season
1914 Dec 03 / Subscription Season / Kolar
ID:

9872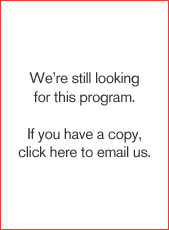 Notes
Isadora Duncan Dancers: listed on program as "Miss Duncan will present six young dancers", described in review as her pupils.

Gluck: "Dances from Orpheus"

Namara: "Special Announcement: Miss Isadora Duncan takes pleasure in announcing that Madame Namara-Toye, who has just returned from Europe, has kindly consented to appear at to-day's performance in collaboration with the school as she did in Paris. She will sing: Four Songs of Schubert; Two Airs of Gluck; One Air of Beethoven (Koenig Stephen); Edward Falck, Accompanist" (no further information available) Placement on program order unknown.

The Symphony Society Bulletin was a newsletter produced in advance of the New York Symphony concerts. It is not known at this time if what was programmed actually happened. There is no known complete set of New York Symphony programs so all performance information is compiled from a variety of sources.
Project Funder:
Collection Guarantor: