Found In:
Communications/Public Relations > Press Clippings
1956 Stadium Scrapbook, Mar 18, 1956 - Aug 3, 1956
ID:

555-063-03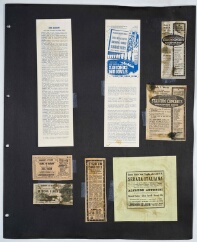 View Folder
Record Group
Communications/Public Relations
Series
Folder Title
Dates
Mar 18, 1956 - Aug 3, 1956
Subjects
Names
Abstract
- New York Philharmonic celebrates the 39th Stadium Season - Ballet incorporated in Stadium Concerts - Louis Armstrong, 57th Birthday - World premiere of Milhaud's Piano Concerto No. 5 - Concerto honoring the 60th anniversary national convention of the American Guild of Organists - Camera Night featuring \$1500 worth of prizes for amateur photographers - First joint concert of Armstrong and Brubeck - Mitchell, Strickland have Stadium Concerts conducting debuts - Stadium Symphony Orchestra comprised of Philharmonic-Symphony musicians - Large number of summer festivals being announced as early as mid-March - Despite rising costs, minimum price seats to remain unchanged - Soviet artists sought for summer concert roster, box office draw - Stadium Concerts will feature organ soloists for first time in its history - Stadium debuts by Cone, Lipman, Unisky, Brook, Gordon, Sills, Dunn, Barry, Tabbert, Russell, and Vichey - Two manual Allen electronic organ to be installed instead of pipe organ at Lewisohn Stadium - First Jazz concert ever at Lewisohn Stadium - Music Around the Calendar - Trend towards light music - Shrinking attendance reduced Stadium Concerts from eight to six weeks - Tchaikovsky and Beethoven honored with two concerts each - Parking available for Stadium Concerts patrons - Preparing for Season Opening - Harry Belafonte has throat operation - Diverse programs - 15,000 attend opening of 39th Stadium Concerts season - Harlem to welcome Stadium Symphony - All-Tchaikovsky program cancelled due to wet grounds - Dog fight - Ballet Russe draws 16,000 - Parakeet - Gershwin Memorial Concert for an orchestral work open to young American composers - Pipe organ installation in apartment featured for Claire Coci interview - First time organ soloists in Lewisohn Stadium - U.S. Premiere of Wood's version of Handel organ concerto - New York premiere of Delamarter concerto - Thalben-Ball composed and played his own cadenzas - Four rotating hi-fi speakers for installed stadium organ - Symphonic works featuring contemporary American composers give patriotic flavor to holiday week - Special encore played for camera night - Independence Day concert rained out; rain date featured split program - Harry Belafonte concert breaks all-time attendance record: 25,000 - First all-jazz concert in Stadium Concert's history - Audience tastes shifting - Alfredo Antonini's new arrangement of "St. Louis Blues" conducted by Leonard Bernstein and filmed for use in the movie "The Saga of Satchmo" with composer in attendance - First ever evening of Cole Porter's music - Continuing appeal of George Gershwin's music despite wet weather - Fuller version of Porgy and Bess performed instead of excerpts - Marilyn Dubow makes impressive Stadium Concerts debut - New York Way of Living - Money for Minnies' Music - First concert performance of "True Love" from the movie High Society - Louis Armstrong's first performance with a symphony orchestra - Jazz concert clocks in at 4 hours, 15 minutes - Vichey Discusses Dual Career - Music under the stars, by the stars, for the people - Minnie Guggenheimer asks audience to send in requests for 1957 Stadium Concerts season - 237,000 attended 1956 Stadium Concerts - Outdoor Audiences Prefer Novel Shows
Project Funder
Preferred Citation
1956 Stadium Scrapbook, 18 Mar 1956 - 3 Aug 1956, Folder 555-063-03, Communications/Public Relations Records, New York Philharmonic Leon Levy Digital Archives.
https://archives.nyphil.org/index.php/artifact/6d3e8af6-6139-4f38-9601-31412cfa04e5-0.1