Found In:
Executive > Moseley, Carlos
Ozawa, Seiji, Jun 4, 1964 - Dec 2, 1965
ID:

011-01-26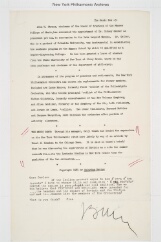 Folder Title
Dates
Jun 4, 1964 - Dec 2, 1965
Subjects
Names
Abstract
ALS-Carlos Moseley, ALS-Ralph Michaels; LS-Ronald Wilford, LS-Harold Shaw. Notice of Seiji Ozawa's appointment as Assistant Conductor, 1964-65, information about the Berkshire Festival 25th Anniversary Concert and an affidavit in support of Ozawa; Correspondence discussing Ozawa's absences, which were in excess of those agreed in his contract, and deductions from his salary.
Project Funder
Preferred Citation
Ozawa, Seiji, 4 Jun 1964 - 2 Dec 1965, Folder 011-01-26, Executive Records, New York Philharmonic Leon Levy Digital Archives.
https://archives.nyphil.org/index.php/artifact/721f5b1c-1ebf-4d95-bbf8-39b2866de7da-0.1