Found In:
Programs >
1896-97 Season >
Special
1897 May 02 / Special / Damrosch
ID:

10569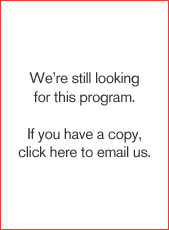 Works
Godard / Concerto romantique, Op. 35

Recitative adagio
Canzonetta: Allegretto moderato

Gounod / Faust
Gade / Erl-King's Daughter

"The Sun Now Mounts," Hymn

Intermission
Wagner / Lohengrin, Op. 75
Wagner / Der Fliegende Holländer (The Flying Dutchman)

Spinning Chorus, Act II, scene i

Balfe / The Bohemian Girl
Beethoven / Six Songs, Op. 48

"Die Ehre Gottes in der Natur: Die Himmel ruhmen des Ewigen" (Creation's Hymn)

Wagner / "Preislied", from Die Meistersinger von Nurnburg, WWV 96, arranged for violin and orchestra (Wilhelmj, August Daniel Ferdinand)
Project Funder
Preferred Citation
Concert program, 2 May 1897, Program ID 10569, New York Philharmonic Leon Levy Digital Archives.
https://archives.nyphil.org/index.php/artifact/78a4a277-9d27-4203-a6b4-1b90d8bf3ce7-0.1