Found In:
Communications/Public Relations > Press Clippings
1943 Stadium Scrapbook, Apr 27, 1943 - Aug 23, 1943
ID:

555-043-01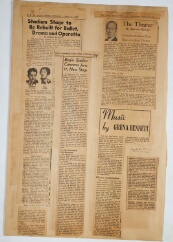 Record Group
Communications/Public Relations
Series
Folder Title
Dates
Apr 27, 1943 - Aug 23, 1943
Subjects
Names
Abstract
- New stage for Lewisohn Stadium erected for season opening; allows for ballet and opera performances - The conductors announced for the 26th stadium season include Fritz Reiner, Alexander Smallens, Efrem Kurtz, and Morton Gould - Opening night of the stadium concerts is delayed one day due to rain - Mayor LaGuardia addresses the audience on opening night - Rubinstein, Reiner open Stadium Concert season with All-Tchaikovsky program - Stadium expands ticket service for armed forces and officers. - The Ballet Theatre appears for four concerts at Lewisohn Stadium - Marjorie Lawrence performs as soloist while confined to a wheelchair, due to the fact that she is recovering from an illness that prevents her from standing upright - In his first appearance of the season, Alexander Smallens conducts the Philharmonic in the first stadium perforance of Copland's Rodeo - Nora Kaye performs the lead in "Swan Lake" with the Ballet Theatre at the Stadium - Gershwin Night at Lewisohn Stadium is moved back one night due to requests from fans - Paul Robeson is soloist, acccompanied by Robert Shaw's Collegiate Chorale - A cast from the Metropolitan Opera present Carmen at the Stadium, featuring Gladys Swarthout in the title role - World premiere of Edwin S. Stringham's Nocturne No. 2 - Seventeen-year-old Veronica Mimoso features as a soloist at the stadium concerts for a second straight year - Morehouse College presents Paul Robeson with the honorary degree of Doctor of Humane Letters; Speech from Dr. Benjamin E. Mays, president of Morehouse College - Morton Gould conducts his own work on a Fourth of July program - Jesus Maria Sanroma, the pianist statistician - Lucile Harrison, harpist, is sole female musician with the Philharmonic at the stadium concerts - Robert Stolz conducts Viennese Night at the Stadium - Lorin Maazel, thirteen-year-old child prodigy, conducts the Philharmonic - Bronislaw Huberman performs Tchaikovsky concerto - Jose Iturbi conducts a program featuring the Spanish dancers, Argentinita, Pilar Lopez, and their dance group - "Traviata" is given as the second operatic feature of the summer - Jascha Horenstein makes his Philharmonic and Stadium debut, conducting a program featuring Josef Hofmann as soloist on Schumann's Piano Concerto - Andre Kostelanetz conducts Copland's A Lincoln Portrait, which is dedicated to the conductor - Lily Pons sings the Mad Scene from Donizetti's Lucia di Lammermoor on the same program as the Copland work; She and her husband draw the largest crowd of the season - Max Steiner defends Hollywood composers - Emil Cooper makes stadium debut conduting an all-Russian program - Frank Sinatra makes his stadium debut, but the attendance does not meet expectations - Stadium Concert season closes with "La Boheme"
Project Funder
Preferred Citation
1943 Stadium Scrapbook, 27 Apr 1943 - 23 Aug 1943, Folder 555-043-01, Communications/Public Relations Records, New York Philharmonic Leon Levy Digital Archives.
https://archives.nyphil.org/index.php/artifact/7a5d32f7-a1d8-4ec3-b4ae-ad133f10c7ce-0.1