Found In:
Executive > Zirato, Bruno
Rodzinski, Artur, May 5, 1942 - Oct 17, 1945
ID:

011-01-70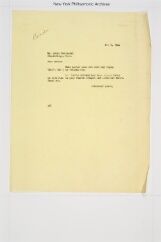 Folder Title
Dates
May 5, 1942 - Oct 17, 1945
Subjects
Names
Abstract
ALS-Artur Rodzinski, ALS-Bruno Zirato, ALS-Halina Rodzinski. Magazine Photo of Artur Rodzinski; Orchestra seating disagreement between Rodzinski, Fassett and Reiner; First Philharmonic performance of Mozart's Piano Concerto in C major, K 503; Rodzinski appeal and denial with War Production Board to get home telephone to do orchestra business; Decision to use "medical angle" to get telephone; Rodzinski biography; Zirato response to Rodzinski's claims of disloyalty; Establishment of Pension Trust Fund; List of conductors managed by Judson; Rodzinski names Tulip the cow's calf "Bruno"; Appeal to War Price & Rationing Board to increase Rodzinski's gas ration.
Project Funder
Preferred Citation
Rodzinski, Artur, 5 May 1942 - 17 Oct 1945, Folder 011-01-70, Executive Records, New York Philharmonic Leon Levy Digital Archives.
https://archives.nyphil.org/index.php/artifact/805e7f3a-8b88-4dd1-8af6-609534e89e69-0.1