Found In:
Executive > Zirato, Bruno
Stokowski, Leopold, May 2, 1949 - Sep 30, 1949
ID:

011-11-31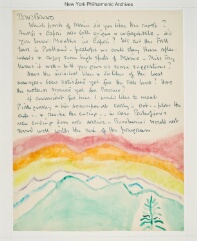 Folder Title
Dates
May 2, 1949 - Sep 30, 1949
Subjects
Names
Abstract
ALS-Leopold Stokowski; LS-Louise Bernhardt; ALS Bruno Zirato to Arthur Judson discussing Stokowski's recording of Mahler 8; Stokowski's repertoire list for violin and viola auditions; Vocalist auditions for Mahler 8th Symphony; Correspondence re: inviting Mitropoulos to be Assistant Conductor; Boychoirs for Mahler No. 8; Martenot for Messiaen Tois Petites Liturgies; Engagements for the Pension Fund Concert 1949; U.S. Premeire of Prokofiev Symphony No. 6
Project Funder
Preferred Citation
Stokowski, Leopold, 2 May 1949 - 30 Sep 1949, Folder 011-11-31, Executive Records, New York Philharmonic Leon Levy Digital Archives.
https://archives.nyphil.org/index.php/artifact/83f9be2d-374b-47cc-9b2d-4d5efb92dc1a-0.1