Found In:
Programs >
1945-46 Season >
Carnegie Pop Concert
1946 May 10 / Carnegie Pop Concert / Broekman
ID:

9787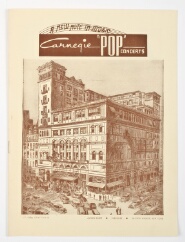 View Program
Orchestras
Members of NY Philharmonic
Works
Herbert / Natoma
Intermission
Rodgers / Carousel

"Soliloquy" (arr. Don Walker)

Kern / Show Boat (Bennett, Robert Russell)
Intermission
Grofe [Grofé] / Grand Canyon Suite

On the Trail
Sunset
Cloudburst

Gershwin / Porgy and Bess

Summertime, Clara, Act I, scene 1
Oh Bess, Oh Where's My Bess, Porgy, Act III, scene 3
Bess, You is My Woman Now, Porgy/Bess, Act II, scene 1
Notes
Carnegie Pop Concert

Horsman: originally for voice and piano. no evidence of accompanist at this performance, assumed piece was performed in an unknown orchestrated version.
Project Funder:
Collection Guarantor: